Details
User:
Teal
Name:
Lars
Alter:
37
Geburtstag:
05.12.1983
Geschlecht:
männlich
Homepage:
http://www.ninjalooter.de
Land:
Deutschland
Steam Profil:
Mein SteamID-Profil
ICQ:
420615531
Beruf/Tätigkeit:
PR-Consultant für Videospiele
Ich mag...:
Metal
Ich mag nicht...:
Hip Hop
Motto:
The only constant is change.
Infotext:
Mögen meine Ex-Kollegen über mich richten!

Da ich nur noch sporadisch HL2 und Co. gespielt habe, entschied ich mich Ende 2005, mein Amt beim HLP nieder gelegt, was mir nach mehr als 6 Jahren blackmesa.de/halflife.de/hlportal.de nicht leicht fiel.

Heute schreibe ich unter anderem für Ninjalooter.de.

Not in cruelty,
Not in wrath,
The Reaper came today;
An Angel visited
this gray path
And took the cube away.
Statistiken
letzter Login:
10.03.2020, 02:12 Uhr
Besuche:
2.430
Aufrufe:
34.487
Logins:
258
Profil-Views:
30.891
Punkte:
7.469
Rang:
Shock Trooper
Forum Beiträge:
1.992 (0.61 % aller Beiträge)
Kommentare:
445
ges. Messages:
64
empf. Messages:
79
Galerie Bilder:
0
Gästebuch Einträge:
39
Buddies:
bei 28 Usern auf der Buddyliste
Ignores:
von 0 Usern ignoriert
Nickhistory:
CaptainPanaka, Estaran, CaptainPanaka
Hardware/Internet
Browser:
Chrome
Anbindung:
DSL 100k/40k
Provider:
Telekom
CPU:
Intel Core i5-2500K
RAM:
8GB G.Skill RipJaws PC3-8500U CL7
Motherboard:
ASRock Z68 Pro3
Grafikkarte:
Sapphire Radeon R9 290 Tri-X OC Battlefield Edition (4096MB)
Soundkarte:
ASUS Xonar DX 7.1 PCIe/Beyerdynamics MMX2 Headset
Monitor:
Acer S271HLAbid + iiyama ProLite E2209HDS
Maus:
Perixx MX-2000
Mauspad:
von ArenaNet (Guild Wars 2 - Heart of Thorns)
Tastatur:
Speedlink Virtuis
Sonstiges:
Logitech Wingman Rumblepad
Logitech Wingman Extreme Digital 3D
Microsoft XBox 360 Wireless Controller Limited Edition

Lieblings...
| | |
| --- | --- |
| ...Spiel: | Half-Life / Ultima Online / Fallout 1+2 / Battlezone 1+2 / Battlefield: Bad Company 2 / System Shock II |
| ...Mod: | Natural Selection / Brain Bread / Fortress Forever / Renegade-X / Mechwarrior: Living Legends |
| ...Clan: | Let's Play Some Games |
| | |
| ...Essen: | Selbstgemachter Nudelauflauf |
| ...Getränk: | Kaffee, Tee, Wasser, Met |
| ...Musik: | Metal, Rock, Alternative, Mittelalter |
| ...TV-Serien: | Game of Thrones, Battlestar Galactica, Die Simpsons, South Park; |
| ...Film: | 12 Monkeys, 23, Matrix 1, Requiem For A Dream, The Boondock Saints, Donnie Darko, Der 13. Krieger, Star Wars Trilogie, Herr Der Ringe Trilogie, Memento; |
| ...Buch: | So einige. :) |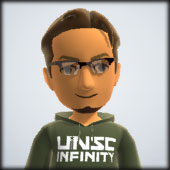 Bewertung
Buddies
Besucher
Letzte Forenbeiträge
Webseiten